The 150 most-used Spanish words
Multilingual glossary with the very first words you need in Spanish.
This list comprises 150 words in Spanish with their respective English, German, French, Italian and Portuguese translations. These words are the starting point for your Spanish-learning project. If you'd like a bit more elementary vocabulary, Inti recommends the Multilingual Everyday Vocabulary List comprising 1200 words.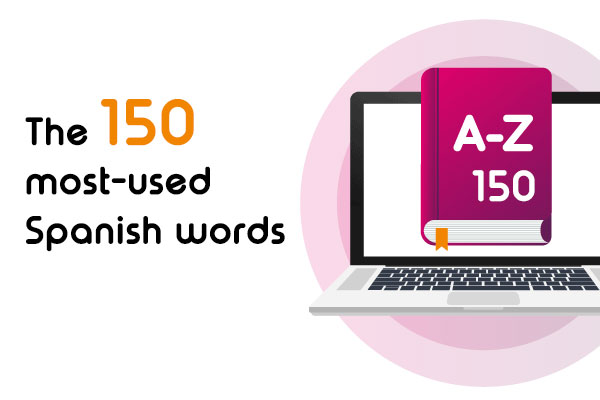 | ESPAÑOL | INGLÉS | ALEMÁN | PORTUGUÉS | FRANCÉS | ITALIANO |
| --- | --- | --- | --- | --- | --- |
| ¿cómo? | how? what? | wie? | como? | comment | come? |
| ¿cuál? ¿cuáles? | which? which one(s)? | welche (r| s) | qual? quais? | quel? quelle? quels? quelles? | quale? quali? |
| ¿cuándo? | when? | wann? | quando? | quand? | quando? |
| ¿cuánto? ¿cuánta? ¿cuántos? ¿cuántas? | how much? how many? | wieviel? | quanto? quanta? quantos? quantas? | combien (de)? | quanto?quanta? quanti? quante? |
| ¿por qué? | why? | warum? | por que? | pourquoi? | perché? |
| ¿qué? | what? | was? | o que? | qué? quel? quelle? quels? quelles? | cosa? che? |
| ¿quién?¿quiénes? | who? whom | wer? | quem? | qui? | chi? |
| a | to| at | zu| um| nach | a| para | à| en| au | a |
| además | also| besides| in addition to | außerdem | além disso | en plus| en outre | inoltre |
| ahí | there | dort | lá | là| là-bas | lì| là |
| ahora | now | jetzt | agora | maintenant| en ce moment | adesso |
| al | to the | zum | para | au| à l'| à la | al |
| al lado de | beside| next to | neben | ao lado de | a côté de | vicino a |
| algo | something | etwas | algo | quelque chose | qualcosa |
| alguno| algunos| algunas| algunos| algún | somebody| someone| any | einige| jemand | algum| alguns| algumas| alguma | un| quelqu'un| quelques | qualcuno| qualcuna |
| allí | there | dort | lá | là| là-bas | lì| laggiù |
| antes | before | zuvor | antes | avant| d'abord | prima |
| aquel| aquella| aquellos| aquellas | that (one)| those (ones) | jene(r| s) | aquele| aquela| aqueles| aquelas | ceux-là| ce| celui-là | quello| quella| quegli| quelle |
| aquí | here | hier | aqui | ici | qui |
| así | so| like this | so | assim | comme cela| comme ça | così |
| aun | still| even | noch| sogar | ainda | encore| même | ancora| anche |
| aunque | even| though| although | obwohl | ainda que| embora | bien que| même si | anche se |
| ayer | yesterday | gestern | ontem | hier | ieri |
| bien | well| good | gut | bem | bien | bene |
| buen| bueno| buena| buenos| buenas | good | gute (r| s) | bom| boa| bons| boas | bon| bonne| bons| bonnes | buon| buono| buona| buoni| buone |
| cada | each | jede(r| s) | cada | chaque | ogni |
| casi | nearly | fast | quase | presque | quasi |
| cerca | close | nahe| ungefähr | perto | près| proche | vicino |
| como | as| like | wie | como | comme | come |
| con | with | mit | com | avec | con |
| contra | against | gegen | contra | contre | contro |
| cualquier| cualquiera | any| anyone | jegliche(r| s) | qualquer | quelconque| n'importe quel | qualsiasi |
| cuando | when | wenn| als | quando | quand | quando |
| de | of| from | von| aus | de | de| en| á | di |
| debajo | under | unter | embaixo | sous | sotto |
| deber | to have to | sollen| schulden | dever | devoir | dovere |
| del | of the| from the | von dem| vom | de | du | da |
| delante | in front of | vor | na frente | devant | davanti |
| dentro | inside | innen| in | dentro | dans | dentro| nel |
| desde | since| from | seit | desde | dés | dal |
| después | then| afterwards| next | nachdem| danach | depois | après | dopo |
| detrás | behind | hinter | atrás | derrière | dietro |
| donde | where | wo | onde | où | dove |
| durante | meanwhile | während | durante | pendant| durant | durante |
| él | he| him | er| ihn | ele | il| lui | lui |
| el | the | der| die| das | o | le| l' | il |
| ella | she| her | sie | ela | elle | lei |
| ello | it | es | isso | cela | esso |
| ellos| ellas | they| them | sie| ihnen | eles| elas | ils| elles | loro |
| en | in| on| into | in | em | dans. En | nel |
| encima | above | über | em cima | sur | sopra| sul |
| enfrente | opposite | gegenüber | em frente | en face | di fronte |
| entonces | so| then | dann| also | então | à cette époque| alors | quindi |
| entre | between| among | zwischen | entre | parmi| entre | tra |
| ese| esa| esos| esas | that| those | jene(r| s) | esse| essa| esses| essas | ce| cet | quello| quella| quegli| quelle |
| eso | this | dies | isso | ça| cela | questo |
| estar | to be | sein | estar | être | essere| stare |
| este| esta| estos| estas | this | diese(s| r) | este| esta| estes| estas | celui-ci| ceux-ci | questo| questa| questi| queste |
| fuera | outside | außerhalb| draußen | fora | dehors | fuori |
| gracias | thank you | danke | obrigada | merci | grazie |
| gustar | like | gefallen | gostar | bien aimer| plaire | piacere |
| haber | to have| there is| there are | haben| sein| geben | haver | avoir| être | avere |
| hace | ago | vor | faz | il y a | fa (senso temporale) |
| hacer | to do| to make| | machen | fazer | faire | fare |
| hasta | to| until | bis | até | jusqu'à | fino |
| hay | there is| there are | es gibt | há | il y a | c'è| ci sono |
| hoy | today | heute | hoje | aujourd'hui | oggi |
| ir | to go | gehen | ir | aller | andare |
| la | the | der| die| das | a | la | la |
| las | the | die | as | les | le |
| le | him| her | ihm| ihr| Ihnen | ele| ela | lui | gli| le |
| lejos | far | weit | longe | loin | lontano |
| lo | it| him | es | o| ele | le| ce qui| ce que | esso |
| los | the| them | sie| die | os| eles | les | gli| loro |
| luego | later| then | später | depois| mais tarde | ensuite| après | poi |
| mal | bad(ly) | schlecht | mal| mau | mauvais| mal | male |
| mañana | tomorrow | morgen | amanhã | demain | domani |
| más | more | mehr | mais | plus | più |
| me | me| myself | mich| mir | me eu mesmo | me| moi | mi |
| mejor | better| best | besser | melhor | meilleur| mieux | migliore |
| menos | less | weniger | menos | moins| sauf | meno |
| mi| mis | my | mein | meu| meus | mon| ma| | mio| mia| miei| mie |
| mientras | meanwhile| while | während | enquanto | pendant que | nel frattempo |
| mismo| misma| mismos| mismas | same (ones) | gleiche(r| s)| selbe | mesmo| mesma| mesmos| mesmas | même| le même| la même| les mêmes | stesso| stessa| stessi| stesse |
| mucho/mucha | much | viel|sehr | muito | beaucoup | molto |
| muchos| muchas | many| a lot of | viele | muitos| muitas | beaucoup | molti| molte |
| muy | very | sehr | muito | très | molto |
| nada | nothing | nichts | nada | rien | niente |
| nadie | no one | niemand | ninguém | personne | nessuno |
| ni | not even| neither …nor | nicht einmal | nem | ni | né| neanche |
| ningún| ninguno| ninguna | no| none | keine(r| s) | nenhum| nenhuma | aucun| aucune | nessun| nessuno| nessuna |
| no | not| no | nein| nicht | não | no| ne | no |
| nos | us | uns | nós | nous | ci |
| nosotros| nosotras | we| us | wir | nós | nous | noi |
| nuestro| nuestra| nuestros| nuestras | our(s) | unser | nosso| nossa| nossos| nossas | nôtre| nôtres | nostro| nostra| nostri| nostre |
| nunca | never | nie | nunca | jamais | mai |
| o| u | or | oder | ou | ou | o |
| otro| otra| otros| otras | another| an other| other one| others | andere(r| s) | outro| outra| outros| outras | autre| autres | altro| altra| altri| altre |
| para | for| to | um zu| fúr | para | pour | per |
| peor | worse| worst | schlechte(r| s)| schlechteste(r| s) | pior | pire | peggiore |
| pero | but | aber | mas | mais | ma| però |
| poco | little| few | wenig | pouco | peu (de) | poco |
| pocos| pocas | few | wenige | poucos| poucas | peu| pas beaucoup | pochi| poche |
| poder | to be able to| can | können | poder | pouvoir| savoir | potere |
| por | by| during | für| wahrend| wegen | por | à cause de| par | per |
| por favor | please | bitte | por favor | s'il vous plaît | per favore |
| porque | because | weil | porque | parce que | perché |
| primero| primera| primeros| primeras| primer | first| firstlly | erste(r|s) | primeiro| primeira| primeiros| primeiras | premier| première| premiers| premières | primo| prima| primi| prime |
| pronto | soon | bald | em breve | tôt| rapidement| vite | presto |
| que | which| who | der| die| das | que | que | cosa |
| querer | to want| to like| to love | wollen| lieben | querer | vouloir| aimer | volere| amare |
| saber | to know| to be able to | wissen| können | saber | savoir| connaître | sapere |
| se | himself| herself| itself| themself | sich | ele mesmo| ela mesma| isso mesmo| eles mesmos | se | si |
| según | according to | nach| zufolge | conforme | selon | secondo |
| ser | to be | sein | ser | être | essere |
| si | if | wenn| falls | se | si | se |
| sí | yes | ja | sim | oui | sì |
| siempre | always | immer | sempre | toujours | sempre |
| sin | without | ohne | sem | sans | senza |
| sino | otherwise | sondern | senão | mais | ma| bensì |
| sobre | on| about| on top of| over | über | sobre | sur| au-dessus de | sul| riguardo a |
| solo | only| alone| lonely | nur| allein | só| apenas | seul| unique | solo |
| su| sus | his| her| its| their | sein| seine| ihr| ihre | dele| dela| deles| delas | son| sa| | suo| sua| suoi| sue |
| también | also| too | auch | também | aussi| également | anche |
| tampoco | neither | auch nicht | também não| nem | non plus| pas plus | neanche |
| tan | so | so| derart | tão | tellement| aussi | tanto |
| tanto| tanta| tantos| tantas | so much| so many | so sehr| so viele | tanto| tanta| tantos| tantas | tellement de| ttant de | tanto| tanta| tanti| tante |
| tarde | late | spát | tarde | tard | tardi |
| te | you | dich| dir | você | te | ti |
| tener | to have | haben | ter | avoir | avere |
| todavía | still | noch | ainda | encore | ancora |
| todo| toda| todos| todas | all| everything | alles| alle | todo| toda| todos| todas | tout| toute| tous| toutes | tutto| tutta| tutti| tutte |
| tu| tus | your | dein(e) | seu| seus | ton| ta| tes | tuo| tua| tuo| tue |
| tú | you | du | você | tu| toi | tu |
| último| última| últimos| últimas | last | letzte(r|s) | último| última| últimos| últimas | dernier| dernière| derniers| dernières | ultimo| ultima| ultimi| ultime |
| un/uno | a| an | eine(r|s) | um | un | un|uno |
| usted| ustedes | you | Sie | você| vocês | vous | lei| loro |
| varios| varias | various | verschiedene | vários| várias | divers| diverses | vari| varie |
| ver | to see| to watch | sehen | ver | voir | vedere |
| vez | time | mal | vez | fois | volta |
| vosotros| vosotras | you | ihr | vocês | vous | voi |
| vuestro| vuestra| vuestros| vuestras | your | euer| eure | seu| sua| seus| suas | votre| vôtres | vostro| vostra| vostri| vostre |
| y | and | und | e | et | e |
| ya | already| yet | schon | já | déjà | già |
| yo | I | ich | eu | je| moi | io |
| arriba | above | oben | acima | au-dessus| en haut | sopra |
| abajo | down | unten | abaixo | dessous| en dessous | sotto |
| les | them| you | ihnen| Ihnen | eles | leur | gli|a loro |
| decir | to say | sagen | dizer | dire | dire |
| preguntar | to ask | fragen | perguntar| fazer uma pregunta | demander | chiedere| domandare |