f there's one place that puts a smile on my face it's San Sebastian in the Basque Country. I think this is because I am very greedy. This is the food capital of a food kingdom. t's also because it looks a little bit like a little Rio de Janeiro with a lot more weather. Both have Christ the Redeemers gazing down on perfect curved beaches.
San Sebastián (Donostia in Basque) is a graceful city sitting on Spain's Atlantic coast just a few miles down the road from France. Founded as a monastery, it first became a fishing village, then a highly sought after military and naval stronghold before blossoming into a holiday resort for Queen Isabella II at the end of the 19th century when many of the city's elegant neo-classical buildings were built.
It has Parisian-style boulevards, a pleasing promenade along its stunning city beach "La Concha", a nice lookout from Mount Urgell which is easy to gallop up, and an atmospheric cobbled old quarter which is arguably the most famous tapas destination in Spain.
The city is also home to several Michelin-starred restaurants (and a galaxy of stars between them) a few of which I have visited over the years. But I'll stand up and be counted and say that generally speaking this isn't my preferred eating experience. I'm not as radical as my Dad who charmingly referred to the food of one as "seagull squirts".
But l like places that feel like old friends whose dishes I daydream about tasting again. Impressed as I can remember being at the time about some 3-star offerings, I now seem to mainly recall the daft flops.
So bliss in Donostia for me is tumbling in and out of tapas bars. A vermouth here, a txakoli there (Basque white wine with a small fizz) and wonderful food in between. If you're planning on spreading yourself thinly and are worried about getting plastered too early on, opt for a " zurito", a teeny weeny beer. There are so many bars that are so very good and I'm attaching an excellent map so you can plan your route. My advice is to resist the siren call of the spectacular pintxos on the bar displays and go for the ones you pick off a blackboard or menu to be made up fresh.
Our favourite place is Ganbara, famous for its spectacular mounds of wild mushrooms in heaps on the bar served with egg yolks and fresh artichokes with clams. Unsurprisingly there's a lot of foie around, most notably at La Cuchara de San Telmo which has off the chart crispy sucking piglet and delicious risotto. Bar Néstor made such an impression on my brother's family that they have Nestor dinners back home: very rare steak in strips, Padrón peppers and tomatoes kissed with extra virgin olive oil and sea salt.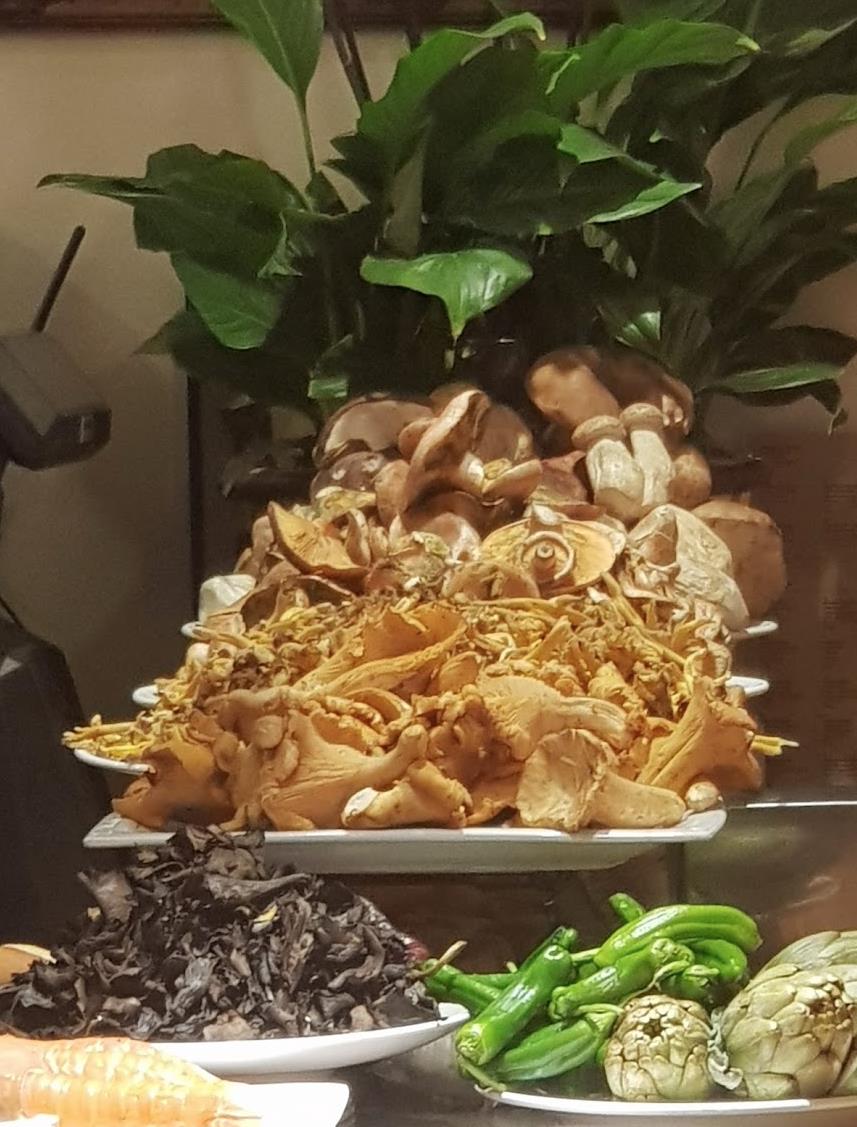 And when you've filled up on tapas there's La Vina's historic burnt cheesecake to inhale followed by a gambol up Mount Urgell for a sundowner at Polboriña to gaze over the city.
Bar hopping requires energy, patience and occasionally sharp elbows! If you're hankering after a calmer evening with a nice reserved table, head to the exquisite Casa Urola. I love the artichokes (sensing a pattern here?) and baby broad beans.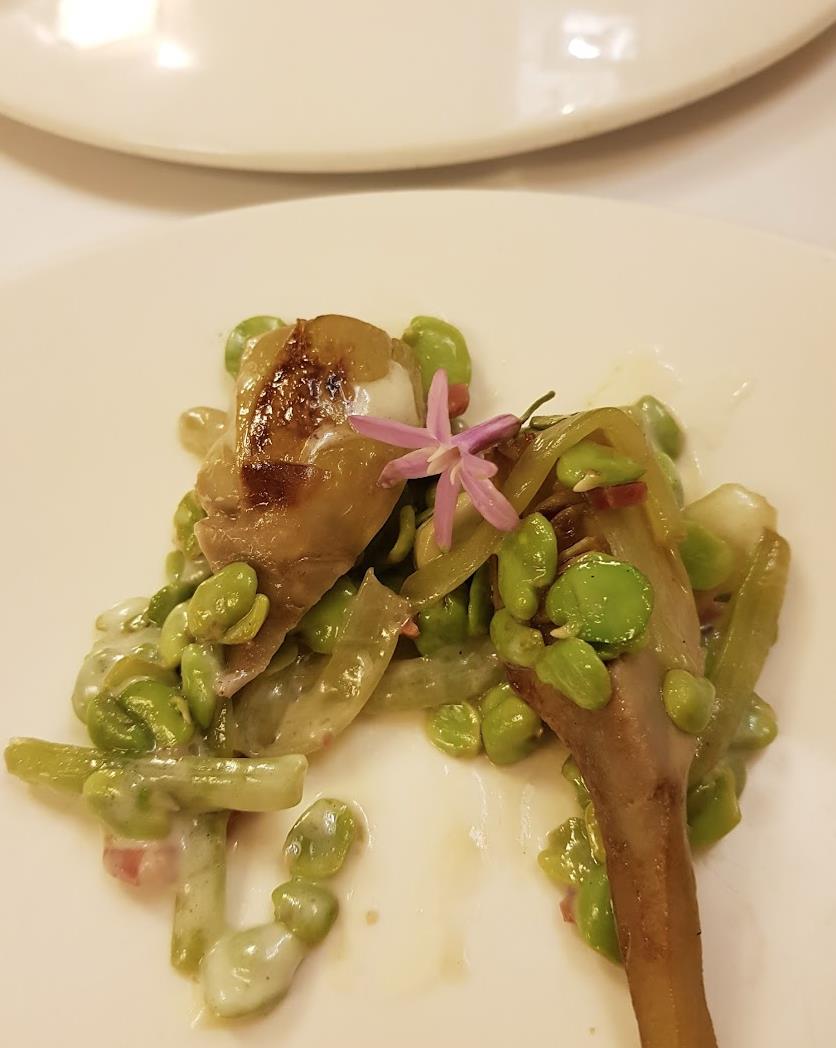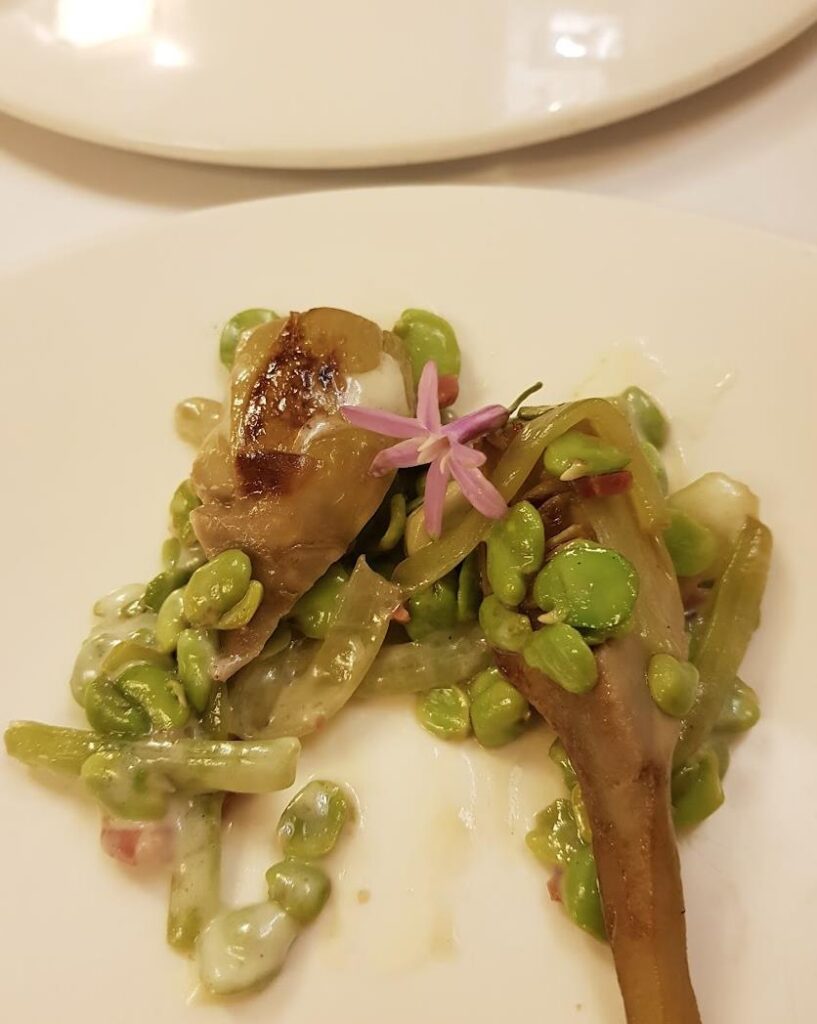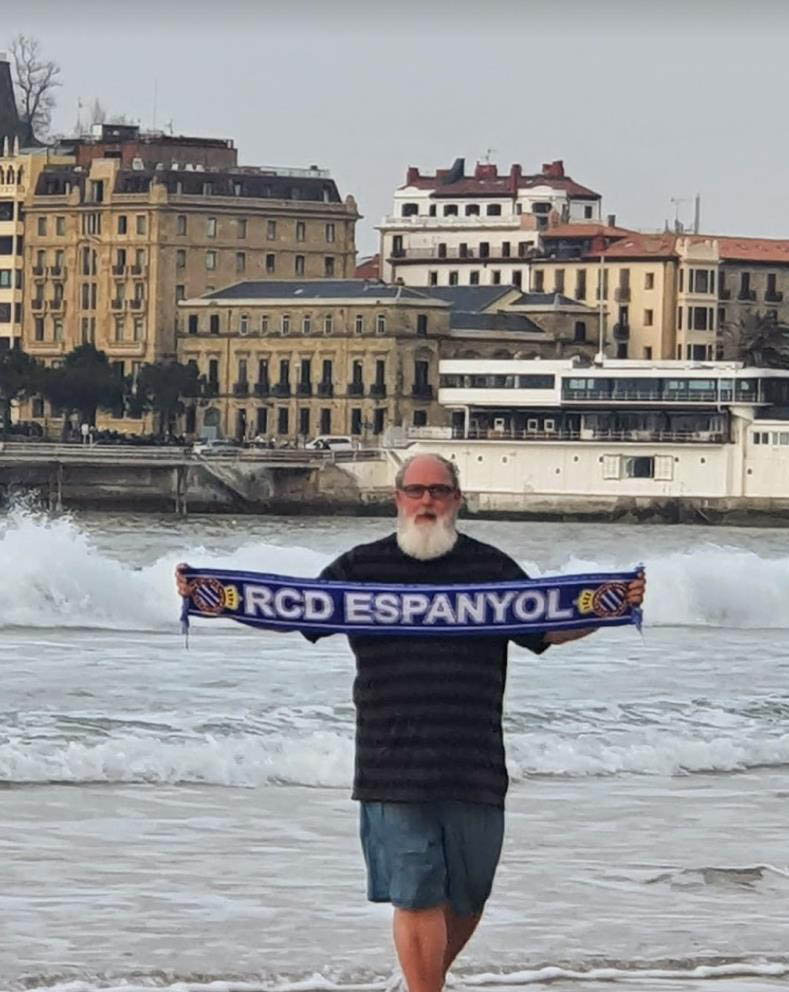 Donosti is very often bathed by something rather friendly-sounding called "txirimiri", which in English translates less fortunately as "drizzle". This can be rather chilly in winter months so what better way to luxuriate in the warmth and pretend one is "detoxing" after all the pintxos, than a visit to the historic La Perla baths on La Concha. Housed in an iconic building , this wonderful city spa is huge and democratic. Locals get a cheap rate and we made friends with a lovely old bird in the sauna who very nearly convinced me to join her for her daily sea swim (it was December). Later in the changing rooms I saw her metamorphose into Chic Basque Lady in a Chanel suit. Slim as a blade, I wondered where on earth she put her pintxos. Must be the sea-swimming.
My mad husband did make it into the sea brandishing for luck a scarf of his beloved Espanyol football team we later watched lose against the local team Real Sociedad.
The atmosphere at this and every Spanish football stadium is thrilling and there are a few places you'll feel quite such a part of it all .
Eating
Consult this map and pick your destinations according to tapa speciality.
https://sansebastianpintxobars.com/resources/downloads/
Our favourites are:
Bar Néstor
La Cuchara de San Telmo
Ganbara
La Viña
Casa Urola
Sleeping
For a treat, the attic rooms at Hotel Londres with superb terraces with views over the Concha.
For excellent value, and very handily located for the old town and Mount Urgell is the Sanse Bay Hotel.